Edwin R. Taylor, a native of Fenton, Michigan, was born into a family of musicians. His father was a church musician, his mother sang in the church choir, and his sister is a professional trombonist, public school band director, and composer/arranger. Edwin's earliest 'musical' memory is playing a game whereby he would run and hide his face in thecouch in the den while his father played a note or two on the piano in the living room.As soon as Dad would say "ready", Eddie would run out to the piano, and play exactly what he had heard…every time. You mean everybody can't do that? The discovery of absolute pitch in one's son or daughter is probably quite a remarkable revelation, but it didn't seem at all 'unusual' to Eddie.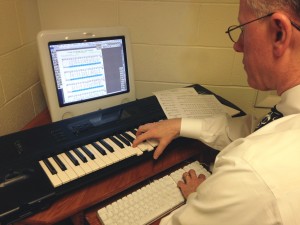 When his parents heard him playing "Twinkle, Twinkle, Little Star" in every key on the piano (C, then C#, then D, then E-flat, then E, et cetera … originally, his grandfather had taught him in C Major how to play the R.H. melody and a L.H. Alberti bass accompaniment), they started him with piano lessons at the age of six.  In grade school, he sang in the elementary school Honor Choir, then, by high school he was accompanying the 75-voice High School Choir, the Men's Glee Club, the Women's Glee Club, and singing in an a cappella madrigal ensemble.
After 9 years of two piano lessons a week, and the realization that his teacher was grooming him to be a concert pianist, he decided to follow the route of his father, and began organ lessons at 15.  Upon graduation from high school, it was off to the only school to which he applied: Westminster Choir College, in Princeton, New Jersey, thus commencing a rich and blessed career as a professional and passionate church musician, organist/pianist/accompanist, choral/orchestral conductor, composer/arranger, teacher, and concert series designer/director.
A prolific and published composer, Edwin has penned numerous hymntunes; choral anthems; hymn re-harmonizations; hymn descants; solos and duets; handbell works; orchestrations for various combinations of brass, choir, woodwinds, strings, and handbells; over two dozen Songs of Home for piano; fifteen piano rags; and more.  Examples of Edwin's published hymntunes may be found in The Presbyterian Hymnal 1990 and the Christian Science Supplement 2009.  In one of the nation's most unique hymn- and hymn-writing 'teams', the pastor at his former church would, several times a year, write a new hymn, and Edwin would pen the tune…sometimes immediately…sometimes days or weeks later.  His pastor was even known on occasion to pen a new hymn text while poring over one of Edwin's pre-existing hymntunes.  This pastor/musician duo collaborated on seventeen hymns/hymntunes in the eight years they served the same church.
Edwin has accompanied numerous vocalists, instrumentalists, ensembles, conductors, and composers in worship, in concert, in workshops/conferences, on tour, and in recording sessions, including Paul Spencer Adkins, William Joyner, Michael Sylvester, Allen Pote, Michael Kemp, Robert Simpson, John Yarrington, Constance Fee, the Westminster Chapel Choir, the Ann Arbor Cantata Singers, The King's Choir, and his favorite musician of all, his soprano wife, Faith.  His colorful accompaniments and imaginative improvisations can be heard on three compact discs, including Reflection of Hope.
As a choral/orchestral conductor, Edwin has conducted performances of the Requiems of Brahms, Duruflé, Fauré, and Rutter; the Glorias of Mozart, Pinkham, Poulenc, Rutter, and Vivaldi; the Magnificats of Bach and Vivaldi; Bernstein's Chichester Psalms and Slava!; Handel's Messiah (complete) and The King Shall Rejoice; Vaughan Williams' Serenade to Music and Five Mystical Songs; Kodaly's Laudes Organi; Respighi's Laud To The Nativity; Sousa's The Last Crusade, along with many of his marches, including The Untitled March, The George Washington Bicentennial, The Black Horse Troop, The Invincible Eagle (Sousa's favorite), and The Star And Stripes Forever (along with the original part Sousa wrote for chorus); Copland's Hoedown and Old American Songs; Diane Bish's Morning Has Broken; to name only a few—encompassing both regional and modern-day premieres. Click here to see his choral/orchestral and orchestral conducting repertoire.
An innovative concert series designer and director and experienced fund-raiser, Edwin has thrice designed and/or expanded self-sustaining church concert series to eight to ten events seasonally, featuring an even balance annually between outside (nationally- and internationally-known) artists and in-house ensembles, with budgets in excess of $27,000, with total voluntary contributions, and always with no admission charge.  Click here for his philosophy of church music ministry.  Contact Edwin (email@edwinrtaylor.com) if you would like him to present his how-to's of concert series designing and quiet and 'anonymous' fund-raising at the large- as well as the smaller-church level.
Edwin R. Taylor earned his Bachelor's Degree in Church Music and his Master's Degree in Organ Performance from Westminster Choir College, in Princeton, New Jersey, and did post-graduate studies in orchestral conducting at the University of California.  He studied organ under Drs. George Markey and Donald McDonald, conducting under Robert Simpson, John Kemp, and Donald Neuen, and composition and orchestration under David Stanley York.  As a member of the Westminster Symphonic Choir as well as numerous ensembles since college, he has sung under the batons and/or tutelage of Leonard Bernstein, Pierre Boulez, Marguerite Brooks, Paul Calloway, Antal Dorati, Lukas Foss, David Hill, Rafael Kubelik, Olivier Messiaen, Donald Neuen, Lorin Maazel, Eugene Ormandy, Krzystof Penderecki, John Rutter, Leopold Stowkowski, Ling Tung, and Sir David Willcocks.
He has served church music ministries in New Jersey, Michigan, Florida, and Connecticut, and is currently enjoying serving an Episcopal church in Florida, on the Board of two chapters of the American Guild of Organists, traveling, and singing—with his wife—in an excellent community chorus.  He and his wife enjoying making memories with their three children and their families (seven grandchildren).  Edwin is also an FAA-licensed pilot, and has logged over 1000 hours in a couple Mooney airplanes along with several Cessnas and Pipers.